Beach flag introduction--the most popular advertising product
Views: 4 Author: Site Editor Publish Time: 2021-09-22 Origin: Site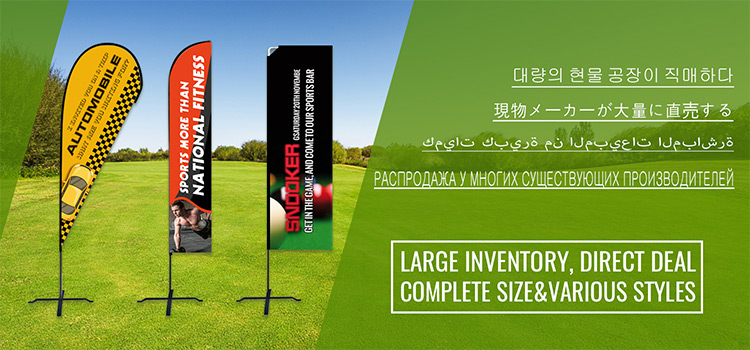 Beach flag/Teardrop flag/Feather flag |Flying flag | Promotion flag/ Waterdrop flag/ Single side flag/Double sides flag.
Beach Flags are the ideal advertising solution for outdoor/indoor events . It is lightweight , portable and easy to install .
Flags in 65gsm or 110gsm polyester with print on 1 (mirrored) side or 2 sides.
Our Feather Flag Kits include the printed flag, the pole set & the Stake Base,You can choose among different bases, eg. crossed, foldable, waterbags, spikes etc.
(Click here to contact us for more information)
SINGLE VS. DOUBLE-SIDED
Feather Flag banners are available either single-sided or double-sided. With single-sided Feather Flags, the printed image saturates through the material resulting in a mirror-image of your print on the back side of the flag (+95% saturation).
Double-sided Feather Flags are printed on two separate single-sided flags and sewn together back-to-back with a blockout layer between.
Double-sided flags save the same image on the front and back of flag without a mirrored.
(Click here to contact us for more information)
Feedback from our customers